Higher-income Medicare beneficiaries have been paying more for their Medicare Parts B and D coverage for several years in the form of income-related monthly adjustment amounts. As a result of a new bill that sailed through Congress with bipartisan support and was signed into law by President Barack Obama in mid-April, costs for upper-income Medicare beneficiaries will increase soon.
The legislation is officially called the Medicare Access and CHIP Reauthorization Act of 2015, otherwise known as the "Doc Fix" law. The major focus of this law is to permanently repair the long-broken method of paying doctors under Medicare, secure permanent funding for low-income Medicare recipients and ensure that children will be able to get access to health coverage.
Buried in the law are other provisions that will adversely affect some folks on Medicare. One of those provisions is that the scale for setting the Medicare B and D IRMAAs will change dramatically in the near future, resulting in more high-income individuals paying sizable IRMAA amounts.
This recent law changes that scale in the near future, resulting in more beneficiaries paying the top IRMAA levels sooner than icurrently is the case. Keep in mind that the modified adjusted gross income determination by the Social Security Administration in any year is drawn from the tax return two years prior. Case in point, while the law stipulates that new MAGI tier definitions go into effect 2018, the 2016 tax return will be used to set those 2018 IRMAA payments.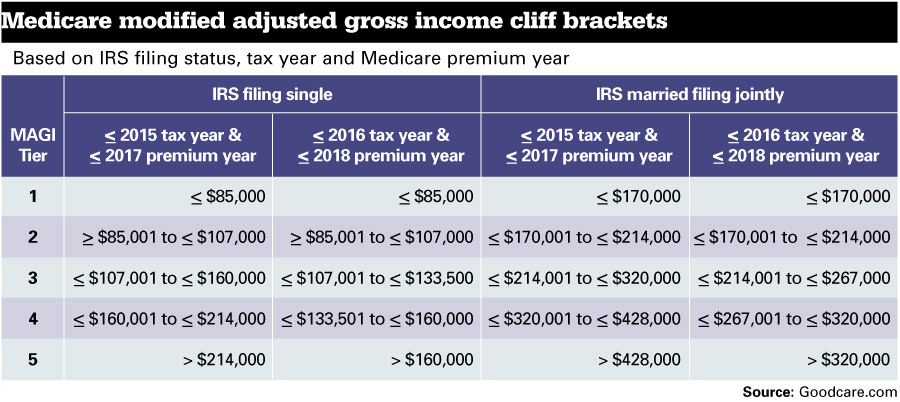 There have been dramatic changes in the top three MAGI tiers. The current structure sets $160,000 for single filers and $320,000 for married couples filing jointly as the upper limit of Tier 3. Effective Jan. 1, 2018, $160,000 and $320,000 respectively are the beginning of Tier 5, the top tier. The impact is that many more people will be in tiers 4 and 5, resulting in an upswing of Medicare beneficiaries paying the largest possible IRMAA rates in 2018. That can translate into up to $3,621 per person or $7,242 per couple more in Medicare payments annually year over year without receiving any more benefits. Additionally, those costs are after-tax for most people.
The good news is that there are retirement-planning strategies you can employ to blunt the effect of the new MAGI brackets, maximize the opportunity to keep yourself in the lower brackets and pay lower Medicare costs. Given that 2016 is just around the corner, it is imperative to make this a priority.
The key retirement planning strategy is to evaluate income and cash sources to identify those that will not flow through to the tax return as adjusted gross income or tax-exempt income. That is effective because the MAGI is made up of the AGI and tax-exempt interest income. Distributions from a Roth individual retirement account or a health savings account are two examples of cash sources that are not included of the AGI and flow outside of the MAGI. Other sources of funds that may work as well for you are the cash value of life insurance or proceeds from a reverse mortgage.
Remember that while you will not face these increased Medicare costs until 2018, the 2016 tax year and those going forward that will provide the MAGI information. You will be glad that you are on top of this important retirement planning issue and have thought ahead to conserve your retirement nest egg.
(Want to get more out of Medicare? Download my e-book here.)
Katy Votava, Ph.D., RN, is president of Goodcare.com, a consulting service that works with financial advisers and consumers concerning health care coverage.